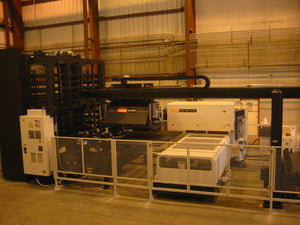 Nor Cal Laser
Established in 2006, Nor Cal Laser is a family owned and operated company. We are located in Chico, CA.
We have three MAZAK lasers from 2500 watts up to 4000 watts. Two have a sheet cutting capacity of 48"x 96" up to 1/2" plate and one 60" x 120" up to 1/4" plate. This allows us to provide a wide range of laser cutting services on a wide range of materials. We also use an automated load / unload system which automatically loads, aligns and unloads sheets of metal with thicknesses up to .500"
MODULAR FIXTURING CAPABILITIES
Our manufacturing facility utilizes advanced fixture systems. All welding tables are high accuracy fixturing tools to help maintain accuracy, quality and repeatability. All fixtures integrate with SOLIDWORKS which helps lower tooling costs.
CNC PRESS 10' 100 TON
We provide forming services along with our laser cutting services. So you can save time and money by only dealing with one business for all your fabrication needs. We provide every service you need to get your project started. From a single part to thousands of parts, you'll find excellent quality no matter the size of your order.